[SIZE="3"][/SIZE]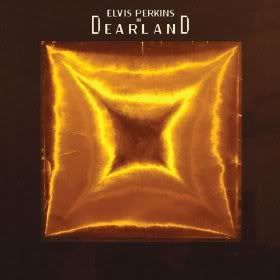 Title:
Elvis Perkins in Dearland
Artist:
Elvis Perkins in Dearland
Original Release Date:
March 10, 2009
Label: Beggars Xl Recording
ASIN:
B001Q8FS2U
Track Listing:
In the 1972 film
Play It As It Lays
, actor Anthony Perkins picks up Martin guitar for a short segue scene. Perkins plays a skilled rendition of an old Mississippi John Hurt tune, in same idiosyncratic five finger ragtime picking style of Hurt. It made me wonder what the abundantly talented actor could have accomplished, had he pursued a musical career. The music career of his son, Elvis Perkins may provide an answer that existential, "what if…" question.
Anthony Perkins died of an AIDS related illness when son his son Elvis (yes, it's his real name) was 16. Elvis' mother, the talented photographer Berry Berenson (sister of actress Marissa) perished in the World Trade Center attack when Perkins was 26 years old. His debut album as a singer-guitarist,
Ash Wednesday
was released in 2007 when he was 31 years old and explored the complex emotional theme of loss in both romantic and familial relationships. Ash Wednesday had enough brilliant moments to earn Elvis an abundant amount of critical nods for a promising musical debut. My own feeling was that Elvis Perkins was a work in progress.
For his newly released second album Perkins followed the unconventional path of going from solo artist to band member. Elvis Perkins has returned with a full fledged backup band with the precocious name of "Elvis Perkins In Dearland" The name may reflect Elvis' own decision to be one of the boys in the band, instead the star of the show. The band members are versatile and nuanced players, all of whom play skillfully on a variety of instruments.
In Dearland's loose, shambling rustic musical sound has been compared favorably to that of the Band. The music of In Dearland falls well within the borders of what is understood to be Americana, in overly redundant nomenclature of popular music sub-genres. For my own part, I'm trying to free myself from the slavery of categorical thinking about music. The proliferation of sub-genres in the contemporary music business is just another market research tool to track the buying trends of music lovers.
I've heard Elvis Perkins compared to Leonard Cohen, Jeff Magnum (Neutral Milk Hotel), Nick Drake, Van Morrison, Townes Van Zandt, and Thom Yorke. I think his lyrics echo John Lennon's love of subversive wordplay, double meanings and exotic uses of allegory. Elvis Perkins' diverse grab bag of musical influences adds up to the sum total of a completely unique music artist and not a cloned version of anyone else. Yes, Elvis Perkins writes moody and cerebral songs about the baffling complexity of romantic love, but his musical vision is stands apart from that of Nick Drake, Townes Van Zandt or L. Cohen. It can be argued that Elvis Perkins' musical vision is far more ambitious in scope than that of his esteemed peers.
It's rare moment when a lead track on an album has the power to reach out and grab naked emotional response from a listener.
Shampoo
the opener on the Elvis Perkins In Dearland album does just that..The sheer emotional velocity of
Shampoo
is like a tazer shock that sends chills down your spine.
There is a knotty tension and hearfelt emotional release in Perkin's singing. His vocals have a clipped cadence and his phrasing is idiosyncratic. Many gifted vocal stylists, use unorthodox phrasing... Van Morrison immediately comes to mind but all the great jazz singers like Billie Holiday, Peggy Lee and Frank Sinatra made their careers from their distinctive trademark phrasing. A good vocal phraser can break with the rule of singing to the time signature of the song, and sing in more of a conversational manner that's slightly off time. It sounds more intimate and natural. It sounds deceptively simple, but if you lack the gift of vocal phrasing, using it will make you sound like you don't know how to sing. Perkins is one of the few among this generation's singers with a gift for phrasing.
Perkins' often inscrutable lyrics and his loosely associated allegories are both visceral and elegantly poetic. Perkins' lyrics evoke the fierce passion and multiplicity of meanings in the same manner that French Symbolist poets like Andre Gide, Arthur Rimbaud and Stéphane Mallarmé engage a confrontational relationship with the reader. Partial lyric of
Shampoo
:
sweep up, little sweeper boy
It's you who's got the wig on here
sweep up, little sweeper boy, sweep up
yellow is the color of my true love's crossbow
yellow is the color of the sun
and black is the color of
a strangled rainbow
that's the color of my loss
black is the color of my true love's arrow
that's the color of human blood
Shampoo
sounds a lost master tape of a brilliant song that Dylan forgot to include on
Blood on the Tracks
. The song has all the immediacy but timeless quality of
Tangled Up in Blue
or
A Simple Twist of Fate
. It's a calculated risk for Perkins to use a song with the raw emotional power of
Shampoo
as the lead track on an album. Front-loading your best song often sets an impossibly high standard for the remaining 9 or 10 cuts on the album.
The second song
Hey
holds it own with a strident uptempo rumba boogie borrowed from the highly stylized riddims of New Orleans R&B piano players like James Booker, Professor Longhair and Dr. John.
123 Goodbye
is a melodic and bouncy tune but Perkins uses it as a vehicle to sing a mournful and bitter elegy to a deceased lover. It's like listening to a Buddy Holly with an attitude. Elvis' serves up conflicting emotions of romantic love lost with equal amounts of regret, anger and tenderness as a counterpoint to the flippant cynicism of his lyrics:
123 goodbye
I love you more in death
than I ever could in life
Once in a lifetime
when the dollar is young and the year is new
once in a lifetime
will the undoing of two souls be so easy to do
like it was for me, like it was for you
when you find somebody who's so very easy to lose
It was happy 123
it was sad 123
we were happy once you and me when we were sad
123 goodbye, goodbye
Ready? 123 goodbye
Steady! 123 goodbye
Nice to know you! three goodbye
It's very nice to meet you! three goodbye
Chains Chains Chains
is linked to the song that follows it,
Doomsday
. The band switches instruments and plays in the style of a New Orleans jazz band on both songs. The horn arrangements in the two songs have mixed results. In
Chains Chains Chains
the horns enhance the song but on
Doomsday
the horns overwhelm the band. Elvis gets an acquittal for
Doomsday
for the clever idea of using a New Orleans jazz funeral march to accompany doomsday song. In
Doomsday
, Elvis uses razor sharp gallows humor in the tradition of Loudon Wainright III to poke a finger in the eye of the ever impending apocalypse.Like Wainright, Elvis Perkins doesn't let morbid fear get in the way of a funny story.
Chains Chains Chains
is sufferer's tale of love lost, is a showcase for Elvis' expressive singing.
The song where Elvis drops his guard and affirms his faith in the transformative power of love to is
I Heard Your Voice In Dresden.
Like Leonard Cohen, Elvis Perkins has a poetic sensibility toward the dangerous allure of erotic love. Both men see heartbreak as the universal bond that humanizes everyone. The path to the palace of wisdom is only known to the walking wounded.
Rating B+
Elvis Perkins in Dearland (EPID) has one brilliant song, 6 first rate songs and 2 songs that are merely good. The album after a month in release languishes in the basement of the music sales charts. (It's current sales rank at Amazon is #475). With a bit more word of mouth, the album could end up at the top of many folk's 2009 year end lists. The uninspired abstract cover art will not catch the attention of curiosity seekers, like myself, who will often listen sample tracks of an album at Amazon, if an album has an eye catching cover.
It's my own personal conviction an $8.99 price tag on an MP3 album with a mere 10 songs and a run time of under 50 minutes is a deterrent to sales. Digital downloads have hardly any production or distribution costs. A $4.99 EP download price would stimulate download sales and help Elivis Perkins find an audience for this sublime music statement.
Scottsdale Real Estate
overstock coupon code

Mr007




Number of posts

: 39


Age

: 31


Registration date :

2010-12-21



---
Permissions in this forum:
You
cannot
reply to topics in this forum